An elaborate view on Data Management and AI in the Banking Industry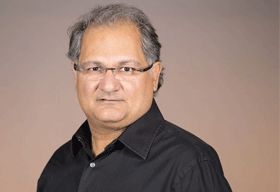 Can you please talk about Data and Artificial Intelligence and how often tech startups are adjusting to the financial institution space and how you can work together to enhance the customer experience?
I have been in the banking sector for many years, currently leading the innovation research and development function along with our Wells Fargo Startup Accelerator program, which helps us work with startups to explore emerging technologies and drive customer solutions. We're helping start-up companies understand how to approach and sell their products/services to Fortune 500 companies. The demand, scale, and requirements by companies of this size are unique. On the other side, regularly collaborating with startups on a wide range of technologies helps Wells Fargo explore big ideas with innovators outside our walls and industry to shape future customer experiences, and data and AI are certainly a big part of that now. Data has grown exponentially; today we have lot more data inside the bank, and there is a lot of inflow from outside the bank as well. AI for us is a key area of focus, and the most important ingredient for AI is data.
When we look at the FinTech landscape most of the organizations are heading towards the customer-centric approach here and trying to provide the personalized experience and data is a key to achieving that customer-centric culture. What is your view on this?
In the past, looking at almost any enterprise, whether it's banking or non-banking, you will see that things heavily concentrated on a product-centric approach. The model has largely shifted. At Wells Fargo, we've always been focused on innovating for the customer. If you look at banking in the last 25 years, we were in the mode of 'go to a branch' or 'go to an ATM.' Now, those options are still available, but we've seen a big demand for mobile, and we are bringing our customer's personalized experiences to their fingertips.
We'll continue to use data to deliver recommendations and further enhance customer experiences.
What are your thoughts on providing the omnichannel experience to the customers?
We want to be wherever our customers are and easily integrate into their lives. For example, we are currently piloting a chatbot in Facebook Messenger, and we were the first major bank to do this.
AI for us is a key area of focus, and the most important ingredient for AI is data
We've long held a commitment to serve our customers when, where and how they want to be served, so we're exploring how we can create a secure, reliable and convenient customer service experience in the apps and platforms our customers use on a daily basis. We value customer feedback, hearing from them what worked and what they wanted more or less of. Providing a good user experience is important to us.
Your company has launched AI chatbot. Tell us about it and how you provide that service on Facebook to give your customers a seamless experience.
As I mentioned, we are currently piloting a Wells Fargo chatbot in Facebook Messenger. Wells Fargo has been responding to customer inquiries on Facebook since 2009. However, since Wells Fargo adopted Facebook Messenger in May 2016, the majority of Facebook customer inquiries are now conducted on Messenger, rather than the public Wells Fargo Facebook feed, which is why we thought this would be a great platform to test and learn. The Messenger chatbot can assist with common questions and issues, and direct customers to a banker when needed.
You have the Wells Fargo Startup Accelerator, an innovation lab, and other FinTech initiatives going on at Wells Fargo. Tell us about the startups that you have worked with.
We have worked with many startups in various capacities, and the core idea is, how do they add value to our customers and how do they align with our business? To-date, we've accepted 17 startups into our accelerator program, and they range from cybersecurity to biometrics to payments and beyond. We have one accelerator alum, MotionSavvy, which converts sign language into speech and text. Kasisto was also a participant in the accelerator, and we've been working with them to integrate their AI technology into our Messenger chatbot. We are watching these spaces and investing time, money and effort.
Do you have an independent, nimble and focused engineering team in the innovation department? Is it independent in the larger day to day operations? Is it trying to take Well Fargo to the next level of technology?
At Wells Fargo, we have a dedicated Innovation Group. I lead the R&D team within the Innovation Group, and we bring in new tools and technologies for various lines of business throughout all areas of the bank. We get the businesses involved with the technology leadership teams on day one. They understand the whole process and workflow required to move from the R&D lab from a proof of concept to prototype to production.
What is your viewpoint on the struggle for balance in technology and innovation of capabilities that have developed in your organizations through technology?
We have to follow certain guidelines and be very mindful of security. We do not have shortcuts when it comes to success. In our group, we are working with a lot of businesses across Wells Fargo simultaneously. We have a challenging and defined role that's also really rewarding. We have never been an enterprise that shies away from trying new things.
Share with us the advice you give to FinTech startups.
We have reviewed nearly 1,600 Wells Fargo Startup Accelerator applications over the last three years. They need to understand the real problems that exist, and opportunities they can work on that will make a difference. Collaboration can often help drive big solutions. At Wells Fargo, we're focused on big solutions; we focus on return on innovation versus return on investment.