Is Tech For Good (T4G) Good For Tech?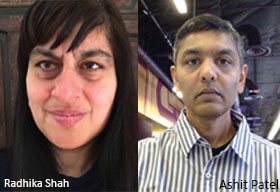 World Leaders ratify the Sustainable Development Goals (SDGs)
In September 2015, in an unprecedented development, acknowledging that inequality and climate change have reached a level of crisis globally that can destroy our world –193 countries and the UN unanimously ratified the most ambitious set of goals ever to tackle major world problems - the 17 development goals to be collectively achieved in next 15 years. These goals are universal and include poverty alleviation, tackling gender and other forms of inequality, access to quality healthcare, water, education, energy, livelihood, social justice for all, sustainable communities, conserving our land and oceans with focus on local solutions. For the first time, there is a global normative framework - for solving the biggest challenges of our times - that weaves together social, economic, and environmental challenges and solutions.
This creates a unique moment in world history enabling diverse set of actors to collaborate towards solving world problems. Catalytic platforms such as SDG Philanthropy Platform enable collaboration and bring the power of philanthropy, tech, policy, and knowledge sharing to achieve SDGs. The Platform has launched in 8 countries including US, Kenya, and India – see the recent India launch of the SDG Philanthropy Platform in collaboration with UNDP, Rockefeller Philanthropy Advisors and Stanford Angels & Entrepreneurs (Stanford tech entrepreneurial community).
Impact Investing and Technology Innovation trends
Impact investing is on the rise up from $2.8 billion of investment in 2013 to $12.4 billion in 2016, offering tech entrepreneurs solving the societal challenges additional sources of funds.
Recent trends in technology such as smartphones, cloud computing, IoT, wearable tech, AR/VR, AI make it easy to bring innovative solutions to people across the world due to their scalability, affordability, ease-of-use, and ubiquity.
Tech for Good (T4G)
The SDG framework, rise of impact investing, and unparalleled access to tech creates a unique inflection point, creating opportunities for technology-based solutions to play a critical role in helping achieve the SDGs.
Recent trends in technology such as smartphones, cloud computing, IoT, wearable tech, AR/VR, AI make it easy to bring innovative solutions to people across the world
As we envision a future with AI and gene-editing technologies transforming our lives via autonomous vehicles, smart homes, smart cities, and advanced medicines/treatments, we should be mindful that such innovations can also cause harm to privacy, security, jobs, etc.
While tech gives great transparency and agency by democratizing decision-making and choices, it is a double-edged sword that puts greater responsibility on the creators, users, and policy makers to thoughtfully design and consider unintended side effects.
E.g. human rights workers have lost lives due to triangulation technology based detection of their whereabouts on social media. Illegal poaching has greatly increased due to anonymous transactions via tech platforms. On the other hand, Prof Ashish Goel's Stanford Crowd sourced Democracy project leverages tech to enable people to actively participate in decisions such as city budget, thus increasing civil society empowerment.
Tech for Good (T4G) leverages technology innovation to create solutions for positive impact on society. Consider following when designing T4G:
• Is the solution inclusive and helping a vulnerable segment of society?
• Is the technology helping achieve the SDGs, by enabling scaling of the solution or other means?
• Does it tackle Inequality and decrease the Digital Divide?
• Does it democratize access to knowledge or basic needs/services (e.g. health, education, water, energy) to large segments of society?
Samasource is an example of T4G for livelihood and economic empowerment bringing digital micro-work to vulnerable communities from across the world. CGNet Swara enables tribal Indians to share information and local news via citizen-journalism + mobile technology - empowering remote populations. Ecosystem players such as Benetech and FastForward act as Accelerants for T4G entrepreneurs.
Governments are also fostering T4G. The AdharID initiative in India provides biometric digital ID to millions who had no identity earlier. India Stack (a public-private partnership) is tech infrastructure built upon AdharID foundation - that enables creation of novel solutions to address specific SDGs. One such solution, swabhiman, addresses access to credit and financial literacy for borrowers trapped in a cycle of poverty and debt.
How is T4G good for the Tech industry?
A recent poll found that 40 percent of millennials are not connecting with their company's mission. This problem is even more widespread. A survey across 3,300 organizations in 106 countries found that only 13 percent of employees are engaged, resulting in waste of talent and shareholder value as a consequence. This problem is magnified in the tech industry with high salaries and severe shortage of qualified talent.
It is well-established that T4G not only helps society, it engenders stronger engagement and retention of employees, customers, and partners - thereby creating a positive feedback loop between the business and society. Tech giants such as Google, Salesforce have created T4G initiatives and benefited from better-engaged, motivated employees with a deeper sense of mission and purpose. The SDG framework reinforces this, helping connect with like-minded people and causes and helping bring focus, funding and ecosystem partners.