State of India Venture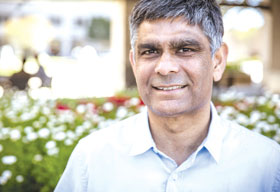 In the first wave, which was India as a labor source, most companies focused on the services sector (essentially supplying "qualified bodies" to different verticals: legal, financial, accounting, market research, etc.). Some good businesses were built, and quite a few small to medium-sized businesses sprouted. The second wave saw the beginnings of Indian E-Commerce. Artiman did not participate in this sector initially. We believed it would need a lot of capital (making it more of Private Equity than a Venture business), a lot of changes in infrastructure (payments, logistics) and consumer behavior.
Over the last 7-10 years, there has been significant progress in logistics infrastructure, supply chain, business and consumer awareness of the value of e-commerce and now the government's desire towards a digital India. This has led us to examine more B2B e-commerce companies.
Recently, we invested in mSupply which targets the large construction and infrastructure space. While this is one of the largest sectors in India, it has also traditionally been one of the most nefarious, as most transactions involved a significant percentage of "black" money. This created lack of transparency (for suppliers and customers), lack of debt and financing instruments, and quite often poor quality. India needs to spend significantly upgrading its infrastructure which requires enormous capital. The government of India has made substantial progress in this area with two critical pieces helping enormously: digital banking and bringing a substantial portion of Indians into the digital world; and secondly the Real Estate Act.
As a result of these two moves, the construction and infrastructure sector is looking to modernize its financing, supply chain visibility, and project tracking. mSupply provides just that: a digital platform to allow developers to bring suppliers, financial organizations and customers to participate seamlessly in any project.
It is as if humans are standing still while technology just happens to them
Using this platform, it is possible to track the project in great detail down to where every rupee is spent. Developers and infrastructure players can get cheaper and higher quality financing (11-14 percent versus 20-25 percent from the black market currently), track projects, and have access to much larger supplier pool as well as product SKUs.
There is a lack of a total ecosystem (basic innovation, early adopters, a full circle of investors: seed, series A, B, late stage, growth, public market). The nexus between Academia, true research, and true innovation still lacks in India. R&D is still at a nascent level in Indian universities, corporates and government.
There are a lot of VCs (over 150), but most are at seed and series A. While there is a global problem of series B investors, it is much a cuter in India. Similarly, there are a few later stage investors but not enough to create a healthy flow. Too many Indian startups suffer from the inability to raise the next round of financing. India's top 500 corporate spends less than 0.5 percent on technology compared to 2-3 percent in the U.S. This creates the problem that it is very hard for new and innovative ideas to find an early adopter.
India needs a robust public market which is accepting of new technology IPOs and an appetite for risk and growth. This can only happen if there is a real spend on IT and recognition of technology as a differentiator for enterprises.
An interesting side-effect which will benefit the startup sector in the longer term is that more non-institutional money is flowing into the stock market. As the country goes increasingly digital and transparent, the stock market will outperform real estate.
Another well-documented challenge is the shortage of qualified C-level executives wanting to do startups. This has been written about often and extensively so not much to add other than, the only experience can help ease this problem and given that venture is at an early stage and startups, in general, were very rare not too long ago, this will take some time to ease.
Transparency is a big issue for the overall well-being of India and the ability for the economy to grow. There are three things that need to become simpler: the legal framework, tax laws, and business ethics. The extremely long wait time in courts encourages bad behavior and makes it harder to enforce contracts and as a result, it slows the pace of business. Simply put, this adds layers of complexity and mistrust. The government is trying to simplify them. Establishing a true tax treaty with the US where double taxation can be avoided would be extremely welcome and beneficial.
The last issue is what is of interest to us going forward in the Indian context? We believe Healthcare and Healthcare services, digitization and the sharing economy. India's economic growth will hinge on high quality and affordable healthcare and healthcare services. Today's healthcare landscape is extremely complex with many specialties, many handoffs amongst different doctors, clinics and overlapping and occasionally clashing medications. There is a real need for an "uber concierge" who knows your baseline, knows the healthcare system and can respond to your emergencies, complex health issues or minor ones, with full knowledge of you the individual and the network of healthcare providers, oversight as well as end to end care.
We believe Digitization and the sharing economy is the next frontier. As the Indian economy grows and Indian aspirations grow, there is a divide between wants, aspirations, and affordability. This is where a sharing economy makes a lot of sense. We are seeing many early companies in the area and are very keenly following them.