Where Adversity meets Venture Capital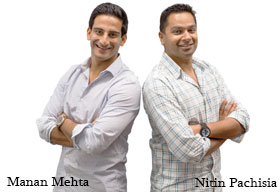 The Power of the Adversity Muscle
As venture investors based in Palo Alto, we spent years examining startups for indicators of future success. We soon recognized a familiar pattern – foreign-born founders consistently proved to be savvy, determined and energetic. Unshackled began to call this combination of tested grit, resiliency and determination the "adversity muscle." As a team comprised of a first-generation American and an immigrant, we understand the advantages of this unique quality firsthand – in ourselves as well as our portfolio founders.
Immigrant founders have traveled far to be in America – not just in miles, but in life experiences. The distance they've traveled is correlated to the challenges they've faced and the adversity muscle they've built. In leaving their homeland, immigrants arrive in a new country as nobodies: no financial stability, no personal networks, and often, no support structure. Their only choice is to begin working hard and hope for success.
The business of entrepreneurship is a high stakes game within itself. But for the immigrant entrepreneur it's go big or go home. That's why we've found the best founders are those who have overcome challenges and bounced back – immigrants or not. But having endured a variety of challenges coming to America, foreign-born founders don't expect a smooth road to success. They will withstand hearing "No," to eventually arrive at the all-important "Yes."
Turning Adversity into Opportunity
At Unshackled, we see adversity muscle at work in the companies we back every day.
We invest very early, often at pre-product stage, where it's all about the team, their vision, and execution capability
Of course, few business leaders walk a straight path. Everyone zigs and zags on the path to success. But the fact is, most immigrants have a windier road than others.
A good example of this is one of our portfolio founders, Prateek Joshi. Prateek grew up in a small village without reliable access to water. Instead of letting adversity hold him back, he became an expert in technology and business. By age 28, he received his master's degree from USC, published seven books on artificial intelligence (AI) and started a company called Pluto AI to help American water facilities prevent infrastructure failures and save billions – both water and profit, annually. His life experiences shaped his grit and determination, which are necessary qualities in the entrepreneurship world.
Adversity muscle is a trait that sets a founder apart – but it doesn't have to be unique to those starting companies in America. Hard work, grit and determination will help entrepreneurs succeed anywhere across the globe. We can't wait to see what the next generation of innovators will create.
Advice to Entrepreneurs
We invest very early, often at pre-product stage, where it's all about the team, their vision, and execution capability; there are almost no metrics at this stage. The best pitches and ideas tell an engaging story - they take you on a journey and enable you to envision the same world as the founders. As a golden rule, we encourage founders to share their experiences overcoming adversity, big or small, and explain how it informed their business purpose and mission. The most impressive pitches we receive at this stage share a unique perspective or insight, and the entire story revolves around that. When we hear an insight or idea that has potential to solve a world problem, it makes us take notice, and engages us as the story unfolds.
Whether you are solving a really hard problem or doing something that has never been done before, many challenges will come your way. It's normal. All you need is the handful of people who will align with your thinking and are willing to be as audacious as you.
The shared characteristic of entrepreneurs – and all successful people– is someone believed in them early on. Unshackled plays the role of believer in their entrepreneurial lives. We know the power and energy of our founding teams is unmistakable.